I have a love/hate thing with Anthropologie, love their stuff, hate their prices, unless I am buying cloth spun from the hair of 50 Psychic virgins then I would just never ever pay their prices... EVER.
Anyway I was having a snoop through their dresses, and this one caught my eye, hate the colour and length, loathe the $560 price tag, seriously are you freakin kidding me?! the shoulder detail however I am in love with, I do love me some cutesy shoulder business going on.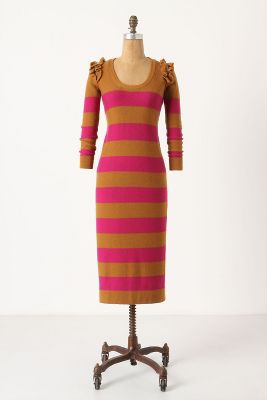 Cue me rustling about in my wardrobe and an hour later I had this, it just about fits over my enormous belly but I'll be wearing it after the babe is due too. I'm working on the Tute for next week but all it took was a pair of Dollar store zippers and a sleeve from a knit Sweater.
Although I added the ruffle zipper combo to the shoulders you could easily just make one and just stitch it to the front for a faux zip look, and because I didn't cut the original sweater if I tired of the ruffles I can just unpick them and wear the sweater as is.
Before shot, I didn't end up cutting up the Dark sweater, I found the original Long sleeves and made the whole shebang from one sleeve, talk about economical!
In case you were thinking that I was a Halloween bah humbugger, here are some of the photos of our Pumpkin, Noah couldn't wait any longer for the hubster to carve it and of course it had to be Curious George :)
Happy Halloween weekend folks, see you next week for the Denim Roses and tutorial for this badboy.